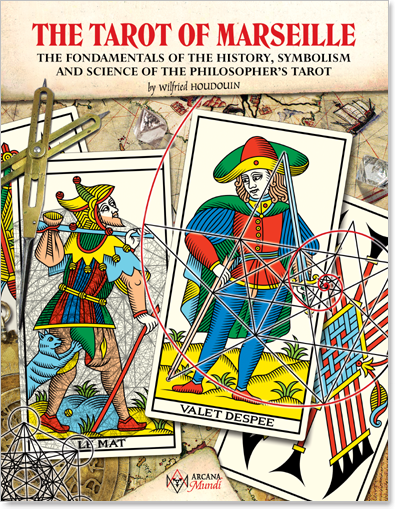 THE TAROT OF MARSEILLE
The Fundamentals Of The History, Symbolism And Science Of The Philosopher's Tarot
New ! Available before the end of the year 2023 !
Following the author's first book, THE SACRED CODE OF TAROT ~ The Rediscovery Of The Original Nature Of The Marseille Tarot (2011, 2023), this long-awaited second book by the creator of the Tarot of Marseille Millennium Edition, sheds new light on the history, sacred geometry, metaphysical philosophy and symbolism of the mysterious Arcana of this initiatory deck of cards.
This book presents a thorough approach to the documented history of the Playing Cards and Tarot - taking into account the most recent discoveries - and brings back essential information, some of it totally new, which was previously unsuspected, dismissed, or simply neglected, but which considerably clarifies the genesis and the hitherto obscure history of the decks of cards as a whole and of the Tarot de Marseille in particular.
The revolutionary approach to all aspects of the Marseille Tarot presented in this book, rich in never-before-published information and containing magnificent illustrations – including never-before-reproduced full-color Tarot deck cards – finally clarifies the true original history, meaning and philosophy, as well as the practical uses – both visionary and playful – of this legendary "Book of Thoth-Hermes", "Game of Life", and "Game of World Government", which is shown in this book to be the realization, in the form of a deck of playing cards, of the fabulous Philosopher's Stone…
1st edition, 2021 • 190 × 270 mm
2nd edition 2023, Editions Arcana Mundi • 216 × 279 mm
• 350 color pages, hard cover
Second edition, revised and expanded,
to be published, September 2023 !
• Retail price : 60 €